building stronger communities
Learn about Chevron's involvement in the communities of Fox Creek and Whitecourt, featuring community members and Chevron employees sharing their experiences about working together.

Chevron Canada announces construction of Kaybob Duvernay office
Together with members from the Town of Fox Creek and community partners, Chevron Canada on June 26 announced the development of a new Kaybob Duvernay office in Fox Creek, Alberta.
The Chevron Canada office will be situated on a nine-acre parcel in the Fox Creek Iosegun Business Park. Construction is scheduled to begin in late 2019, with completion targeted for year-end 2020.
The development will include a two-storey office building, parking lot and storage yard. The building will support the needs of approximately 60 employees and contractors.
The community of Fox Creek celebrated the official opening of its world-class multiplex facility on February 23, complete with an arena, fieldhouse, workspace and the Chevron Aquatic Centre.
We are proud to be supporting several community organizations whose efforts are benefiting residents of the town of Fox Creek.
project updates
Chevron Canada completes hydraulic fracturing operations on 2-21
In late 2018, Chevron Canada received regulatory approval on site 2-21 and successfully drilled two wells. In May 2019, Chevron Canada safely and successfully completed hydraulic fracturing operations on both wells. No seismic events above magnitude 0.0 ML were detected throughout the operations.
Chevron used enhanced seismic monitoring throughout its hydraulic fracturing operations (also referred to as completions) at site 2-21. This included a dense array of monitors on site to increase the range of detectible sensitivity. The regional Nanometrics Duvernay Subscription Array system operated in parallel to Chevron's operations, as did the Alberta Energy Regulator's Alberta Geological Survey monitoring which included the FOXCA station. These systems did not detect any seismic events during our operations.
Seismic data is available through the Alberta Energy Regulator. Click here to view the Station Waveform Data (Select station FOXCA).
As regulated by the Alberta Energy Regulator (AER), all hydraulic fracturing operations are monitored for seismic activity. A protocol is in place to report if seismic events exceed thresholds defined by the Sub Surface Order No. 2. Visit the AER website for more information about hydraulic fracturing and seismic activity, as well as how it's regulated in Alberta: https://www.aer.ca/providing-information/by-topic/seismic-activity.
The next step in Chevron Canada's proposed development plan for the site is to a submit the second of three development permit applications. If approved, Chevron Canada will drill and complete six wells in 2021.
Chevron Canada continues to take a phased approach in developing this area to demonstrate to Fox Creek residents that we can drill and complete wells safely and with no adverse impacts on the community.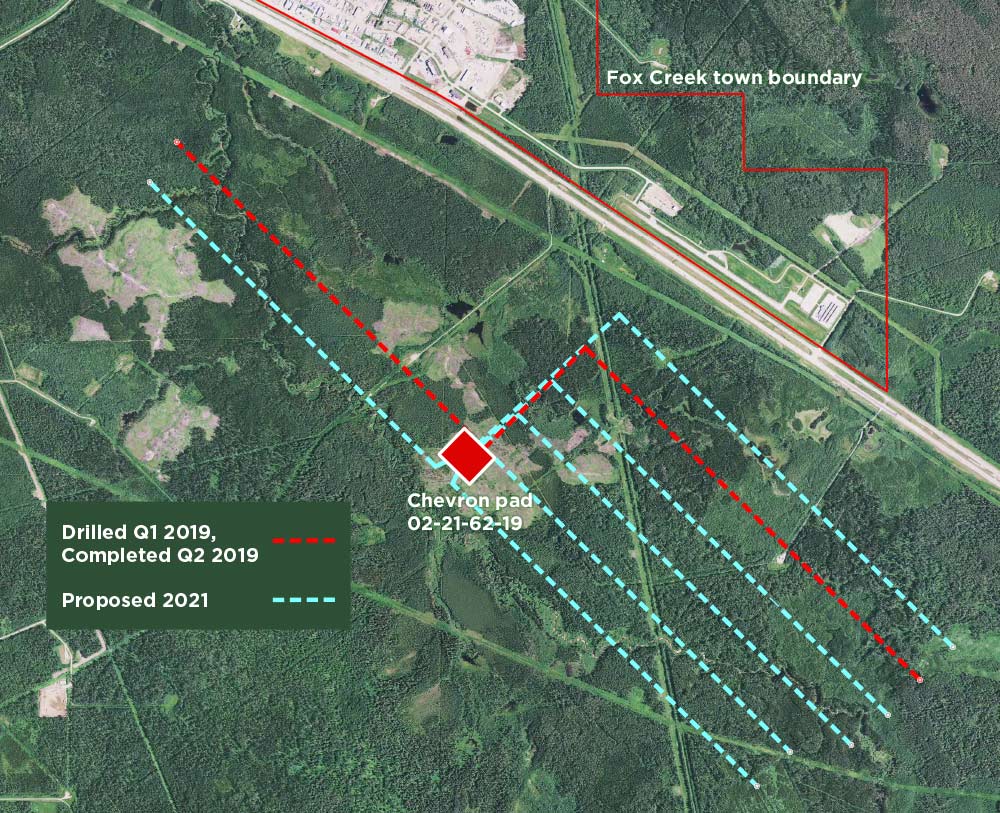 previousupdates
questionsorfeedback

questions or feedback
If you would like to get in touch with us about Chevron Canada's operations in the Kaybob Duvernay area, please contact our office in Whitecourt.
3460 33 Street
Whitecourt, AB T7S 0A2
Telephone: +1 844 634 5010
Email: CBUCommunity@chevron.com
you might also be interested in