building stronger communities
Learn about Chevron's involvement in the communities of Fox Creek and Whitecourt, featuring community members and Chevron employees sharing their experiences about working together.
demonstrating safe regional operations
Protecting people, communities and the environment is our highest priority at Chevron Canada. We share the public's expectation that the energy we need will be produced safely and reliably. Decisions for all our shale and tight oil and gas operations are guided by Chevron's Operational Excellence Management System, a systematic and risk-based approach to identifying, assessing and managing personal safety and health, process safety, the environment, reliability and efficiency.
The safety of Fox Creek residents and our personnel is paramount. Chevron Canada has demonstrated safe operational performance in the Fox Creek region through the successful development more than 10 pad sites south of the townsite. We have employed advanced mitigation strategies to maintain safe regional operations that go above and beyond the requirements prescribed by the Alberta Energy Regulator (AER), the government's regulatory body for resource development.
safe operations start here

We use pre-drilling and planning activities to identify areas of potential environmental, geologic or archaeological sensitivity. Such activities may include assessing the subsurface geology to identify and mitigate risks associated with groundwater aquifers, faults and geological pathways, historical wells in the area and shallow gas reservoirs. Well before we move a drilling rig to a site, we have a very clear understanding of what's beneath the surface to better guide our activities.
protecting groundwater
We take steps to protect groundwater during hydraulic fracturing and over the life of the well. Our wells have multiple layers of steel casing and cement that form a continuous barrier between the well and the surrounding formations. We perform pressure tests to ensure the well's integrity, and conduct monitoring and various tests over the life of the well, which may include cement evaluation logs, temperature, acoustic or ultrasonic measures, to verify long-term integrity. Because fracturing is done thousands of meters beneath the groundwater aquifer, the potential for cracks to leak gas or fracturing fluids into groundwater is extremely low.
Stringent regulatory safeguards are in place to protect the environment, including the quality of the groundwater, and minimize the impacts of our operations on Fox Creek.
Chevron operations strive to meet or exceed all regulatory requirements.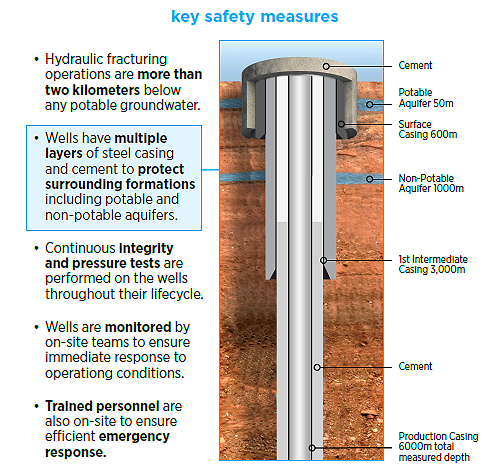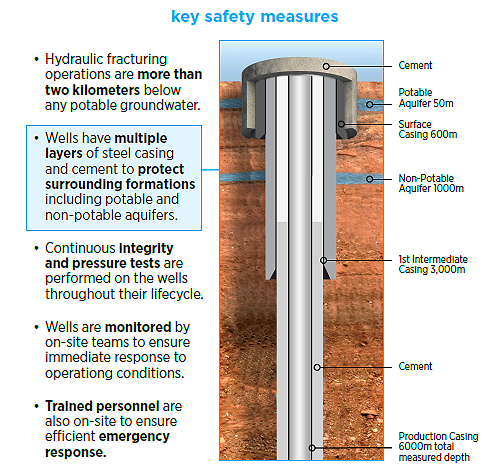 Learn more about the multiple barriers and safeguards that we use to protect groundwater.
hydraulic fracturing regulations
Chevron uses multi-stage hydraulic fracturing technologies in accordance with all regulations prescribed by the Alberta Energy Regulator (AER) and industry best practices.
These requirements are designed to prevent any fracturing fluid from mixing or entering groundwater or surface water sources.
hydraulic fracturing fluid regulations
Any hydraulic fracturing fluids used above the base of groundwater protection must be non-toxic and companies must reveal the contents of the fluids used upon request.
The type and volume of any additives used in fracture fluids must be recorded in the daily well operations record for any well and submitted to the regulator.
Steel casing and full cementing of the wellbore must be in place so that any fluid inside the casing cannot mix with water in underground formations.
Any produced fluids that are returned to the surface must be handled, stored and disposed of under AER regulations.
No fluids, including those that have been treated, are ever allowed to be released into a natural body of water.

Chemical disclosure registry
In addition to the activities noted above, Chevron Canada has also adopted the AER-initiated reporting mechanism, FracFocus.ca, to report fracturing fluids used.
induced seismicity

what is induced seismicity?
Induced seismicity is seismicity caused by human activity. Induced seismicity has been associated with several industrial practices such as dam building, mining and hydraulic fracturing.
An induced seismicity event linked with hydraulic fracturing is usually considered a micro-seismic event, which means it registers with a magnitude of less than 3 on the Richter Scale. This magnitude is rarely noticed and the risk of damage or injury is very low.
hydraulic fracturing and seismicity
The energy released by hydraulic fracturing or injections into wells can trigger movement along existing fault lines, leading to induced seismic events.
managing induced seismicity
As an operator in the Kaybob Duvernay area, Chevron complies with all government regulations and meets or exceeds industry best practices.
monitoring, mitigation and response during hydraulic fracturing operations
We perform subsurface studies to address the seismic risks associated with our operations.
We complete a detailed risk assessment and submit a response plan to the Alberta Energy Regulator (AER) for use if a seismic event were to occur.
We monitor seismicity using acoustic sensors.
We follow the AER's traffic light system to mitigate risks.
AER traffic light protocol
Duvernay Zone, Fox Creek
| | |
| --- | --- |
| | |
| ≥ 4.0 ML | cease operations; inform the AER |
| ≤ 2.0 ML | inform the AER; invoke response plan |
| < 2.0 ML | monitor; no action required |
Modified traffic light protocol mitigations for 16-14
| | |
| --- | --- |
| ≥ 2.0 ML | secondary mitigations - reduce water volumes; reduce proppant; flowback wells; skip stages |
| ≤ 1.5 ML | pause operations; reduce pump rates |
| < 1.0 ML | monitor trends for number of events and escalation |
safety protocols that go above and beyond
Chevron employs seismicity monitoring equipment at all of our completions sites. It's an important step in understanding any seismicity events in real time during our completions operations.
But while seismicity monitoring is a mandatory requirement for all operators during completions, Chevron Canada goes well beyond the regulatory requirements for any pad sites that are close to Fox Creek. We install a local dense monitoring array of between 10-12 additional monitoring stations. This enhanced monitoring capability provides real time detection of very low magnitude events to allow for early mitigation and management of seismicity. The system has proven that we can monitor and identify activity an order of magnitude lower than the regional monitoring system in town.
ten times more conservative than regulatory requirements
In addition to being able to detect seismic events ten times lower than required, we also respond with operational mitigations to any induced seismicity events with a modified Traffic Light Protocol that is ten times more conservative than Alberta Energy Regulator guidelines.
Our strategy of having greatly enhanced monitoring capability that allows us to detect very small events, combined with operational interventions in response that are an order of magnitude more conservative than those required by the regulator, are key components of ensuring safe regional operations, and safeguarding the residents of Fox Creek.
Learn more about how Chevron Canada works to minimize induced seismicity >

16-14: building upon our track record of proven safe operations in fox creek
Chevron Canada's 16-14 pad is our final pad to be developed in close proximity to the Town of Fox Creek, based on our current leases. We cleared the site in Spring 2022, and will conduct the first phase of drilling operations in Fall of this year. Completions operations (hydraulic fracturing) would follow in summer 2023.
The 16-14 site will include 12 wells, running from the center of the pad lease diagonally to the northwest and southeast. This diagonal orientation, or 'on-strike', aligns the wells with the makeup of the deep underground resource layout, and has proven to be a key factor in reducing induced seismicity events.
The location of the well pad southeast of Fox Creek was chosen, in part, because of its distance from known fault lines. The area has been indicated as a low risk induced seismic area, and a 3D seismic survey of the area confirmed that no major fault lines are near the planned well locations.
There have also been extensive hydraulic fracturing operations near the town with no significant events detected.
previous community and project updates
updates
questionsorfeedback

questions or feedback
If you would like to get in touch with us about Chevron Canada's operations in the Kaybob Duvernay area, please contact our office in Whitecourt.
3460 33 Street
Whitecourt, AB T7S 0A2
Telephone: +1 844 634 5010
Email: CBUCommunity@chevron.com
you might also be interested in