news

hebron project achieves first oil
Chevron Canada is pleased to join its Hebron Project co-venturers in announcing the successful start of crude oil production from the Hebron Field.
At approximately 11:03 a.m. on November 27, 2017, crude oil production was initiated at the Hebron platform, 350 km offshore Newfoundland and Labrador in the Jeanne d'Arc Basin.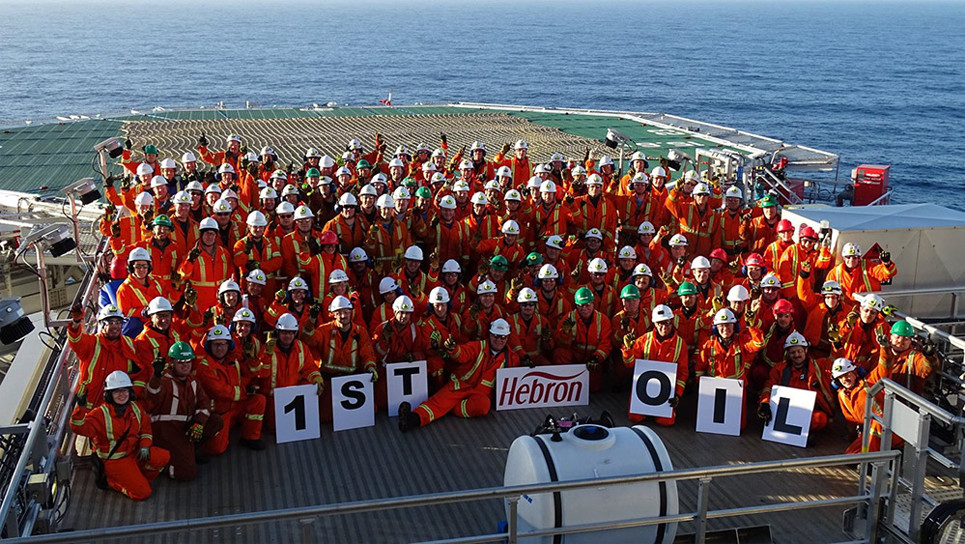 Major milestone for the offshore Atlantic Canada energy project
The achievement of first oil in the Hebron Project marks the beginning of an anticipated 30 years of future production. At its peak, Hebron will produce an estimated 150,000 barrels per day, providing significant royalties and taxes to the Governments of Newfoundland and Labrador and Canada, as well as ongoing large-scale direct employment and related economic spinoffs in the project's home province.
"Chevron Canada (Chevron) wishes to thank the co-venturers in the Hebron Project, the Government of Newfoundland and Labrador, and the thousands of people in the province who came together to make the project a reality. We can all take pride in the achievement of this important milestone," said Chevron Canada President Jeff Gustavson.
"Chevron Canada looks forward to supporting long-term safe and reliable operations from the Hebron Project and to the large-scale economic benefits this world-class natural resources project will bring to Newfoundland and Labrador and all of Canada," Gustavson added.
Project Background
The Hebron Field was discovered in 1980, and the operator has estimated that the field will produce more than 700 million barrels of oil. Chevron Canada holds a 29.6 per cent nonoperated working interest in the Hebron Project. The other project co-venturers are: ExxonMobil Canada Properties (35.5%), Suncor Energy Inc. (21%), Statoil Canada Ltd. (9%), and Nalcor Energy - Oil and Gas Inc. (4.9%).
Production from the offshore heavy oil field will be managed through the Hebron platform, a stand-alone gravity-based structure (GBS) made of reinforced concrete that is designed to withstand sea ice, icebergs and meteorological and oceanographic conditions.
The Hebron platform is 220 metres high and weighs 750,000 tonnes. It supports an integrated topsides deck that includes living quarters and drilling and production facilities and has a storage capacity of 1.2 million barrels of oil.
On April 18, the Hebron GBS was christened at a ceremony in Bull Arm, NL, to commemorate the conclusion of eight years of engineering and construction work on the gigantic offshore oil platform. On June 14, following an 11-day towing operation, the platform was secured on the sea floor in 93 metres of water.
chevron support
Brian Grant, Chevron Canada's manager of Atlantic Canada, said Chevron has played a vital role in supporting the project from its beginnings up to the achievement of first oil.
"Chevron Canada successfully led the Hebron Project through the early development phases. Chevron teams led the appraisal drilling stage, evaluation of reservoir uncertainties and concept alternatives, and the final selection of the preferred development and facility concept," Grant noted.
Over the past 10 years, Chevron has continued to remain involved in virtually every facet of the Hebron Project.
"Achieving first oil is a significant milestone and I am extremely proud of Chevron's personnel for laying the foundation for this mega-project and continuing to add value," added Grant. "This reaffirms Chevron's long-term commitment to Atlantic Canada."
Chevron has been exploring for new sources of energy off the shore of Atlantic Canada for more than 30 years. Learn more.