September means back to school for many, and that includes all the education programs that Chevron Canada supports throughout the year.
Education is a significant focus area for Chevron's contributions around the world. In Canada, Chevron's investments are helping children discover the joy of reading, develop critical-thinking skills through hands-on learning, and explore future career opportunities in science, technology, engineering and math (STEM), to name just a few of the programs our company sponsors.
feature

chevron's education investments have a positive, measurable impact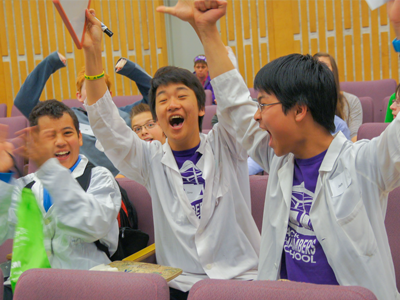 Lorelei Piotto, social performance lead in Policy, Government and Public Affairs, said Chevron's programs are having a positive, measurable impact on students, teachers and the community.
"We evaluate all of our education programs to ensure they meet goals and envisioned outcomes, and programs like Chevron Open Minds consistently exceed expectations," said Piotto. "For every dollar we invest in that program, more than four dollars of value is created in the community. It's astonishing. A very good program will create around two dollars."
An overview of Chevron Canada's education-related sponsorships can be found here and below:
primary education
Chevron Open Minds School Program: Chevron funds six Open Minds School sites across Canada including in Fort McMurray, Alberta, and St. John's, Newfoundland and Labrador. This innovative school program brings classrooms to rich community sites for a week of hands-on learning. In 2018, Open Minds will celebrate its 25th anniversary.
Let's Talk Science: This national organization is focused on improving science, technology, engineering and math (STEM) education across Canada. Chevron Canada partners with LTS to deliver STEM programs and teacher professional development in northern B.C. and helps junior high and high school students discover STEM-related careers through CurioCity.
Calgary Reads: Their mission is to help children read with joy and confidence, and Chevron Canada helps them do that by funding research, in-school programs and the creation of Calgary's first Reading Place in Inglewood. Chevron employees also support Calgary Reads through hands-on volunteer initiatives like the annual book drive and in-school reading events.
NSO Symphony Goes to School... and Beyond! The Newfoundland Symphony Orchestra (NSO) is the only orchestra and largest arts organization in Newfoundland and Labrador, and Chevron helps the NSO share the magic of music through education outreach programs, which are available to teachers across the province. Our partnership also provides discounted tickets to performances for students, teachers and parents.
HR MacMillan Space Centre: Chevron, through the Kitimat LNG Project, is bringing STEM education opportunities to communities in northern B.C. through our partnership with HR MacMillan Space Centre in Vancouver. The centre brings its portable Starlab to B.C. schools and to Kitimat LNG Project open house events, allowing more distant communities to experience a planetarium. Our partnership also supports the development of study programs and resources for schools and communities in the KLNG area.

Did you know...
Chevron's Open Minds Program will celebrate its 25th Anniversary in 2018.
More than 100,000 students have attended the Campus Calgary/ Open Minds Program.
3,294 Alberta children participated in Calgary Reads' "we read" and "Read Up!" programs in 2016-2017.
Sciences courses are not compulsory after Grade 10 in most Canadian schools. Let's Talk Science is working to increase participation in STEM-related courses.
In 2011, Chevron Canada committed $2 million in funding to Memorial University for student scholarships and awards over a 10-year period.
aboriginal education
Junior Achievement's Aboriginal Financial Literacy program: Chevron is helping Junior Achievement of Southern Alberta (JASA) pilot an Aboriginal Financial Literacy Program, designed to help Aboriginal youth improve their skills in money management, credit, savings, tax, and insurance issues. The first year of the pilot provided valuable insights, and Chevron is working with JASA to continue to improve the program with the goal of sharing the framework across JA's network of societies in Canada.
advanced education
Chevron Canada supports numerous scholarships and awards in technical schools, colleges and universities across Canada. These include Aurora College in Inuvik, the Banff Centre, Memorial University in St. John's, Northwest Community College in Terrace, the University of Alberta in Edmonton, and the University of Calgary.