feature

chevron Canada pilots financial literacy program with junior achievement of southern alberta
For nearly 100 years, Junior Achievement has been educating young people about financial literary, work readiness and entrepreneurship.
Using a time-proven formula of connecting business professionals with students to share their knowledge and experience, the organization has grown to become a global powerhouse, providing hands-on learning to more than 10 million youth in 121 countries.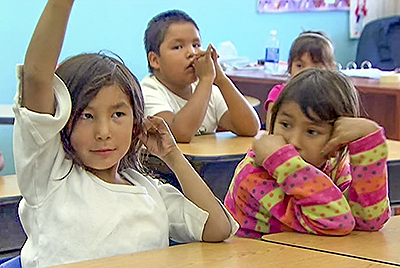 Now, Chevron Canada is proud to partner with Junior Achievement of Southern Alberta on a new financial literacy program that is aligned with the strategic social investment strategy for the Kaybob Duvernay Appraisal Program.
Chevron Canada is sponsoring a pilot program for aboriginal youth in low-income and remote areas of southern Alberta to help them improve their skills in money management, credit, savings, tax and insurance issues. Upon completion of the pilot later in 2016, it's anticipated the program will be deployed in northern Alberta, where the company operates a shale gas appraisal drilling program.
"Early results of the program show students are engaged, attendance rates improve, and that kids have an appetite to learn more," said Lorelei Piotto, Social Performance team lead for Chevron Canada. "Who knew that kids would be so interested in how their money can work for them."
employee involvement
Working with Junior Achievement is not new for Chevron Canada. To date, the company has supported a variety of skills-based volunteer initiatives with JA, where employees have shared their expertise in various business functions with students in both B.C. and Calgary.
Jennifer French, HR business partner, is leading the initiative with employees. "I think it's great that we have an opportunity to reach kids in grade school and start the journey of business acumen and career opportunities early on.
"The kids are excited to learn about oil and gas, engineering, manufacturing, human resources, advertising, marketing, amongst a myriad of other topic and how these concepts can shape their own choices and future."
In 2015, Chevron volunteers went into elementary and junior high schools to deliver JA-created programs to Calgary classrooms. These programs have focused on building students' financial and business acumen. Programs and program materials are created and provided by JA, but volunteers have the opportunity to personalize the programs based on their own experiences and careers.
To learn more about Junior Achievement of Southern Alberta and how you can get involved, visit their website.