Over the past 53 years, Operation Eyesight Universal has touched the lives of millions of people in India and Africa in pursuit of its mission to eliminate avoidable blindness – a major health issue in developing countries.
For more than five decades, the Calgary-based non-profit organization's life-altering work has been made possible by a loyal group of longtime donors who have given generously year after year. But with approximately 80 percent of its donor base over 50 years of age, the organization in 2014 determined it needed to attract a new generation of grassroots supporters to help fund its work into the future.
feature

chevron and propellus partner to strengthen calgary non-profits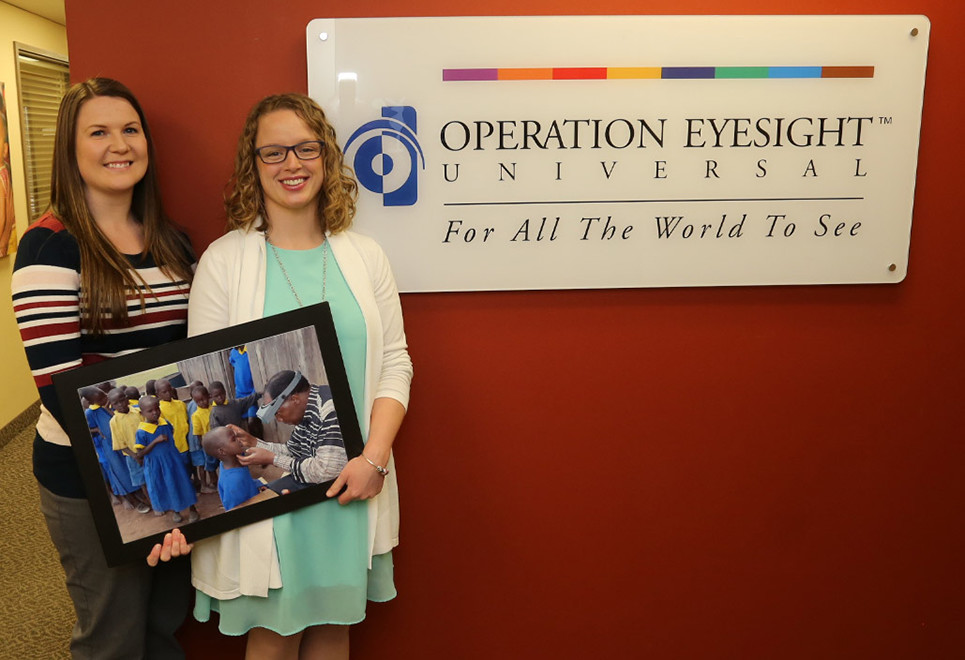 "We needed to refresh what we are doing and who we are connecting with because there is a lot of work still to do in addressing avoidable blindness in developing countries," said Elizabeth Roden, a donor communication specialist with Operation Eyesight.
Operation Eyesight set its sights on engaging "Millennials," the demographic bucket for those aged 16 to 35. Problem was, its leadership team wasn't sure how best to reach this target group. To be successful, it was agreed that specialized marketing expertise would be required.
Fortunately, as with so many of its projects in countries such as India, Ghana, Kenya and Zambia, this story has a happy ending. In 2015, Operation Eyesight asked for help and received it through the Transform Your Story Fund, a partnership between Propellus (formerly Volunteer Calgary) and Chevron Canada.
transform your story fund
The Transform Your Story Fund (TYSF) was launched in July 2014 as a pilot to help build capacity in Calgary-based nonprofits in the areas of strategic management, leadership, governance and fund development.
Through the TYSF program, Propellus and Chevron wanted to help strengthen organizations by providing the necessary resources to transform their team, their organization and, ultimately, their community.
In 2014, six non-profits received access to consulting services, training and organizational reviews administered by Propellus. Based on the pilot's success, Chevron increased funding in 2015 to allow the program to double in size. Operation Eyesight was one of 12 organizations that participated in the program and whose success was shared at a special event at Chevron's Calgary head office on March 15, 2016.
strikes for sight
Through the TFYS program, Operation Eyesight was partnered with a non-profit marketing consultant who worked closely with the organization to develop a near-term action plan and reshape its longer term strategies.
Brittany Buchan, a philanthropy officer with Operation Eyesight, said through focus groups and secondary research her organization now has a much better understanding of how to engage with Millennials and has developed a number of strategies for future marketing and fundraising activities.
"Millennials want to get involved, not just by giving money but also by socializing and helping create awareness for a worthwhile cause," Buchan related.
In December 2015, Operation Eyesight held its first Millennial-focused event. Called "Strikes for Sight," it consisted of a bowling tournament supported by an online fundraising campaign. Seven teams competed, many wearing zany costumes. The tournament and online campaign raised more than $11,000, surpassing the goal of $10,000.
"Because of this support, over 7,000 students in Kenya will be screened for vision problems and identified students will then receive the prescription eyeglasses or other treatment that they need to restore their sight," said Roden. "This means that an estimated 300 students who might otherwise go needlessly blind will be treated."
about the transform your story fund
Many of Alberta's non-profit organizations turn over more than half of their staff each year, making recruitment and retention of talent one of the most important issues they face. Propellus and Chevron Canada created the Transform Your Story Fund to address this chronic problem toward an overall objective of building capacity in non-profit organizations.
The Transform Your Story Fund invites Calgary non-profits to apply for funding to assist them in projects associated with governance, people engagement, leadership and fund development. Propellus subject matter experts will meet with applicants to discuss how to best support the non-profit, and the Transform Your Story Fund will pay for the necessary training and consulting services.
The 2016 Transform Your Story Fund application process opens April 30. If you volunteer with a non-profit that you think could benefit from capacity-building consulting services, encourage them to apply by contacting Jeff D'Silva for an initial conversation. The application deadline is July 22, 2016 and the TYSF recipients will be chosen by mid-August. For more information, visit Propellus.