news

chevron Canada supports creation of research chair at university of calgary
Chevron Canada has entered into an agreement with the University of Calgary and the Natural Sciences & Engineering Research Council of Canada (NSERC) to establish the NSERC-Chevron Industrial Research Chair in Microseismic System Dynamics.
Chevron and NSERC are each contributing $900,000 over five years to fund the chair. The chair will be held by Dr. David Eaton, a professor of Geophysics in the department of Geoscience at the University of Calgary and an internationally renowned seismologist.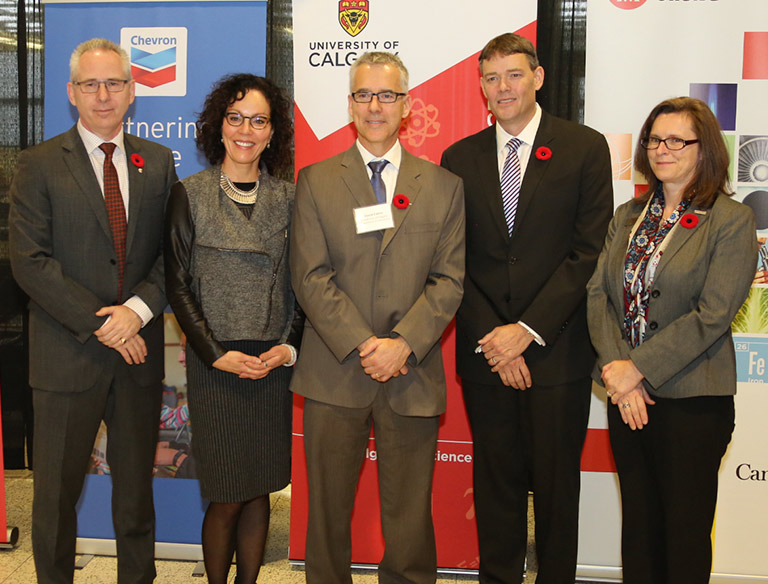 "We are pleased to support the NSERC-Chevron Industrial Research Chair in Microseismic System Dynamics because it will advance scientific understanding of unconventional reservoirs," said Jeff Gustavson, president of Chevron Canada.
"Our support for the chair is an investment in the future of the University of Calgary, its students and faculty, and Canada's energy industry," Gustavson added.
The chair is aligned with Chevron's technology research strategies around the increased use of microseismic data for the improved characterization and optimized development of the company's unconventional shale resources in the Horn River/Liard Basins in northeast British Columbia and the Kaybob Duvernay area of west-central Alberta.
university partnership program
The majority of Chevron's donation comes from Chevron Corporation's University Partnership Program (UPP). The University of Calgary is the second Chevron UPP program in Canada. In 2008, Chevron established a UPP with Memorial University of Newfoundland, funding the Chevron Chair in Petroleum Engineering and the Chevron Chair in Reservoir Characterization.
At the University of Calgary, Eaton's research has already identified and mitigated hazards in resource extraction in support of regulatory practice and cost-effective development of unconventional resources.
"David Eaton is playing a critical role as we continue to address global energy challenges – and the leadership demonstrated by Chevron Canada and by NSERC in establishing this chair will ensure that we continue to bring scientific insights to better understand hydraulic fracturing and to develop better technologies and sustainable extraction practices," said Ed McCauley, vice-president (research) at the University of Calgary.
The new funding will also allow Eaton to provide an enhanced training environment for graduate students and postdoctoral fellows as they work to address the practical research challenges faced by industry.
"This support from Chevron and from NSERC will allow us to accelerate our research program – to meet emerging resource development questions," said Eaton. "This ambitious research program would not be possible without this kind of leadership and partnered support."
The goal of the program is to apply basic geophysical science to develop more environmentally and socially responsible technologies for hydraulic fracturing and to share these advancements with key stakeholders.