At Chevron Canada, we develop the energy that improves lives and powers the world forward.
Since 1938, Chevron Canada has been exploring for, developing, producing and marketing crude oil, natural gas and natural gas liquids. Headquartered in Calgary, Alberta, Chevron Canada has interests in oil sands projects and liquids-rich shale gas acreage in Alberta; exploration, development and production projects offshore Newfoundland and Labrador; shale acreage in British Columbia; and exploration and discovered resource interests in the Beaufort Sea region of the Northwest Territories.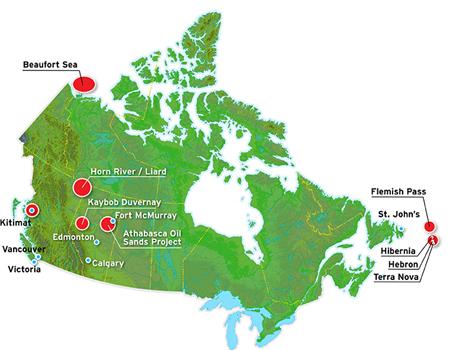 Net daily production in 2020 from Canadian operations was 78,000 barrels of crude oil, 6,000 barrels of condensate and natural gas liquids, 126 million cubic feet of natural gas and 54,000 barrels of synthetic oil from oil sands.
british columbia downstream asset sale
On September 30, 2017, Chevron Canada Limited (CCL) completed a Sale and Purchase Agreement with Parkland Fuel Corporation for CCL's Canadian downstream fuels business comprising the following assets:
129 Chevron-branded retail service stations in British Columbia
37 commercial cardlock locations in British Columbia and Alberta
A wholesale aviation business serving Vancouver International Airport
Three fuel transfer terminals located in Burnaby, Hatch Point, and Port Hardy, B.C.
A refinery located in Burnaby, B.C.
Chevron Canada's upstream assets in B.C., including the Kitimat LNG Project as well as the company's Canadian downstream lubricants business, were not included in this sale.
The Chevron brand will remain at retail, cardlock and marine fueling locations in British Columbia and Alberta under a branded marketer agreement with Parkland.
For information regarding refinery operations or retail and commercial fuel sales, please contact Parkland Fuel Corporation.