kitimat LNG
project overview
The proposed Kitimat LNG Project is a 50/50 joint venture between Chevron Canada Limited (Chevron) and Woodside Energy International (Canada) Limited (Woodside). The Chevron-operated project comprises upstream resource assets in the Liard and Horn River Basins in northeast B.C.; the 471-km Pacific Trail Pipeline (PTP); and a natural gas liquefaction facility at Bish Cove near Kitimat. The Kitimat LNG Plant includes up to three LNG trains totalling 18 million tonnes per annum (6.0 MTPA/train), and is an all-electric plant powered by clean, renewable hydroelectricity from BC Hydro.
Kitimat LNG has established First Nations partnerships that are unique in the Canadian energy industry and has received strong support from local Indigenous communities across the entire value chain. Kitimat LNG has a benefits agreement with the Haisla Nation for the LNG Plant that is located on Haisla Nation Reserve land, and an agreement with all 16 First Nations along the proposed Pacific Trail Pipeline route through the First Nations Limited Partnership (FNLP). These agreements include training, employment, goods and services contracting, environmental stewardship and financial benefits to our First Nation partners.
Kitimat LNG competitive advantage
Abundant, low-cost, reliable gas supply, with AECO market hub flexibility
Fully permitted Pacific Trail Pipeline project
Comprehensive First Nations agreements and support
Temperate climate improves plant performance
Direct, ice-free shipping route
Proximity to growing Asian LNG markets
Chevron and Woodside have extensive global experience in designing, constructing and operating world class LNG facilities. Chevron and Woodside collectively operate approximately 15 percent of global LNG production (12 LNG trains) and safely loaded over 500 cargoes in 2018. In addition to Kitimat LNG, Chevron and Woodside are also co-venturers in the
Wheatstone LNG
and
Northwest Shelf LNG
assets in Australia. With respect to Kitimat LNG, Chevron and Woodside are focused on delivering a globally competitive project that is aligned with global LNG demand.
Chevron Canada and Woodside are developing the Kitimat LNG facility to liquefy natural gas from British Columbia's Liard and Horn River basins. The natural gas to supply the liquefaction facility will be transported to the plant from Summit Lake, B.C., via the 471-kilometre Pacific Trail Pipeline.
Kitimat LNG has a 20-year, 10-million-metric-tonne-per-year LNG export license from the National Energy Board, and all of the major provincial and federal environmental assessment certificates for the proposed Kitimat LNG plant and the Pacific Trail Pipeline are in place.
At the Bish Cove plant site near Kitimat, Chevron and Woodside are proposing to construct the world's first all-electric LNG plant powered by renewable hydroelectricity from BC Hydro. This design eliminates the need for natural gas-powered turbines. As envisioned, the plant will set the global standard for lowest emissions intensity of any large-scale LNG facility. The plant design features an advanced compact module design enabling low-cost operations, high efficiency and high availability.
The Kitimat LNG facility will be built on land leased from the Haisla Nation (IR 6) under a unique benefits agreement. Significant early preparation work at the site began in 2011 and full construction of the facility will begin once a Final Investment Decision (FID) is made.
The Pacific Trail Pipeline (PTP) is a proposed 471 km natural gas pipeline that will safely and reliably deliver natural gas from the Liard and Horn River basins in northeastern B.C. via Summit Lake to the Kitimat LNG facility site at Bish Cove on the northwest coast of British Columbia.
Kitimat LNG will help provide a reliable, secure, cleaner-burning fuel to Asia. The PTP has a benefits agreement with all 16 First Nations whose traditional territories are along the proposed PTP route. Chevron Canada is committed to the PTP being built and operated in a manner that, above all, protects people and the environment.

Natural gas to supply the Kitimat LNG Project will come from the Liard (366,944 acres, 1,485 sq km) and Horn River (220,000 acres, 890 sq km) basins in northeastern British Columbia. Development of these natural gas reserves will include seismic, drilling, completions, facilities, and production operations. These very significant resources will provide sufficient natural gas supply to the proposed Kitimat LNG export facility for several decades.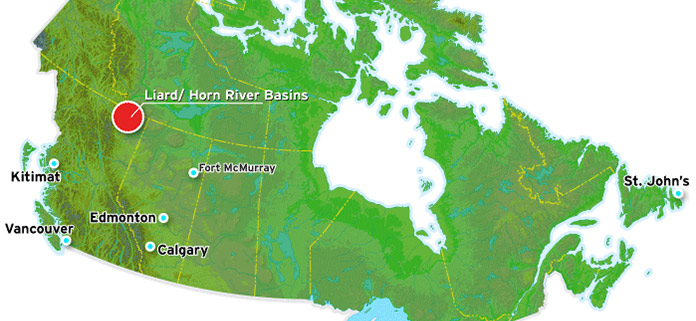 First Nations and government support
British Columbia stands to be the biggest beneficiary of the Kitimat LNG Project for decades to come. Benefits such as employment, skills training, contracting and revenues to First Nations, local, B.C., and Canadian businesses are already taking place.
Examples of First Nations and government support for the Kitimat LNG Project include:
Major plant and pipeline regulatory approvals in place, including "Substantial Start Determination" and advanced permitting
Kitimat LNG Plant site supported by comprehensive agreements with the Haisla Nation
Comprehensive agreements with First Nations Limited Partnership over entire Pacific Trail Pipeline right-of-way
Marine Route agreements and approvals being finalized
Aligned with CleanBC and government economic, environmental and Indigenous peoples reconciliation goals
you might also be interested in