liard & horn river resources
Natural gas to supply the Kitimat LNG Project will come from the Liard (366,944 acres, 1,485 sq km) and Horn River (220,000 acres, 890 sq km) basins in northeastern British Columbia. Development of these natural gas reserves will include seismic, drilling, completions, facilities, and production operations. These very significant resources will provide sufficient natural gas supply to the proposed Kitimat LNG export facility for several decades.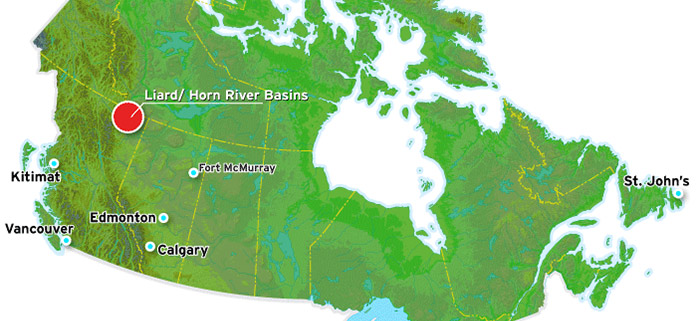 Chevron Canada believes natural gas resources can be developed safely while protecting people and the environment. Chevron Canada is committed to ongoing community consultations, engagement with First Nations and participation in industry groups that promote best practices as part of our unconventional resources operations.
Chevron Canada's principles for the development of these natural gas resources are to:
Place the highest priority on protecting people and the environment

Ensure that developing B.C.'s natural gas resources benefits British Columbians first

Support the communities where we operate

Be responsive to the concerns of local communities and stakeholders

Work with and respect local First Nations

didyouknow?
did you know?
60 percent of all natural gas delivered by pipelines every day to hundreds of thousands of homes in British Columbia has been extracted using hydraulic fracturing. More than 175,000 wells have been fractured safely in Western Canada over the last 60 years.
responsible natural gas development
Natural gas extracted from unconventional resource plays, including shale and tight rock, has become a significant new global energy source that has resulted in the reduction of hundreds of thousands of tonnes of greenhouse gas emissions in North America alone. Producing natural gas from shale is made possible by extended-reach horizontal drilling to access the natural gas resource, and hydraulic fracturing to fracture the rock and release the trapped gas.
Chevron Canada's highest priority in all our operations is to protect people and the environment, which is why we meet or exceed local regulations. This includes reducing water use through efficient operations, recycling, and safeguarding groundwater, and using hydraulic fracturing fluids with the lowest possible environmental impact. We also use well design, execution standards and processes that ensure natural gas containment and prevention of impacts to ground water.
Chevron Canada is a member of the Canadian Association of Petroleum Producers (CAPP) and we abide by its Guiding Principles for Hydraulic Fracturing. We also support the disclosure of chemicals used in hydraulic fracturing. FracFocus has been adopted as the standard reporting mechanism by industry in North America, and our fracturing fluids will be reported using this process.
Read more about our environmental commitment
what is horizontal drilling?
Extended-reach horizontal drilling allows wells to be drilled horizontally to access far more of the rock formation that contains natural gas than a vertically drilled well would be able to. This technology dramatically reduces the amount of surface land disturbance to extract natural gas.
For example, a 20-well horizontal pad site disturbs just nine percent of the local area that comparable vertical wells would use to access the same volume of natural gas. In addition, the horizontal well will access more of the productive formation, resulting in greater natural gas recovery compared to a vertical well.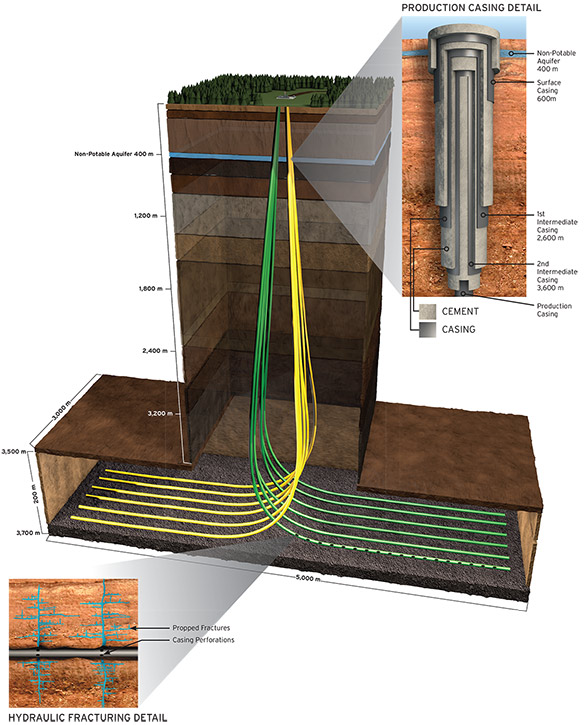 what is hydraulic fracturing?
Hydraulic fracturing is a process where water, a small amount of additives, and sand or another proppant are pumped down a well at high pressure to a targeted formation. The pressure causes the rock in that formation to fracture. When the pumping pressure is relieved, the water flows back up the well to surface, and leaves the sand behind to prop open the cracks or fractures. This process allows the natural gas to escape from these formations, and flow to the surface where it is processed and shipped by pipeline to market.
On average, the hydraulic fracturing process takes only three to 10 days. Once completed, the well will produce natural gas for several decades.
digging deeper: get the facts on hydraulic fracturing
The world needs more energy and a cleaner environment too. As demand for energy increases, we must look for innovative ways to safely and responsibly develop our natural resources. Learn more about how this process works from the Canadian Association of Petroleum Producers
facts about hydraulic fracturing
Hydraulic fracturing is not new. It has been used to recover oil and gas in Western Canada for more than 60 years with an established safety record and continually improving environmental performance.
More than 175,000 wells have been fractured safely in Western Canada over the last 60 years

In fact, there are currently more than 1,500 natural gas wells in B.C. producing natural gas for use in homes, businesses and industry all across British Columbia that were developed using hydraulic fracturing.

60 percent of all natural gas delivered by pipelines every day to hundreds of thousands of homes in British Columbia has been extracted using hydraulic fracturing.

Water and sand constitute more than 99 per cent of fracturing fluid.
how chevron protects the environment during hydraulic fracturing
At Chevron Canada, we're committed to minimizing our impact on the environment, and we believe that protecting the environment can go hand in hand with meeting the world's energy needs.
Chevron Canada uses well design, execution standards and processes that address natural gas containment and which prevent impacts to ground water.

Multiple well isolation barriers are put in place, and Chevron Canada employs recognized industry best practices.

All Chevron Canada unconventional resource operations value the responsible use of water while protecting potable water sources.

Chevron Canada has the capability and technology to manage well flowback and produced water in a safe and environmentally responsible manner.
Where feasible, Chevron Canada strives to recycle and reuse all well flowback and produced water during the development phase. When this is not feasible, Chevron Canada disposes all flowback and produced water in accordance with applicable government regulations at designated facilities.
fast facts
The Canadian energy industry has a solid track record for safely developing natural gas resources going back to the 1950s.
In British Columbia, the independent Oil and Gas Commission (OGC) regulates the entire lifecycle of oil and gas activities in the province, from exploration and drilling, to production and final site reclamation.
The Oil and Gas Activities Act (OGAA) is B.C.'s main legislative framework. Associated regulations which cover drilling and production and environmental protection and management, outline public safety and environmental protection for projects that utilize hydraulic fracturing. (source - OGC)
Prior to granting a license to drill any well in B.C., the OGC undertakes a thorough application review which includes engineering, environmental, First Nations, private landowner and archaeological considerations. (source - OGC)
The OGC also undertakes careful reviews for water permits and licenses to ensure there is more than enough water available for environmental and community needs. (source - OGC)
British Columbia has strong up-to-date legislation and regulations surrounding hydraulic fracturing activities that are administered by the OGC.
Water use during hydraulic fracturing only occurs for a brief period. Overall, water use in B.C. by the oil and gas industry accounts for less than 1.5% of all water use. Domestic use, agriculture and pulp mills account for more 75% of all water licenses in B.C.
regulatory authorities & industry associations
For more information on unconventional resource development in Canada, please visit: