Chevron Canada is committed to partnering with Indigenous communities where we operate to build an understanding of each other's aspirations and concerns. Together, we work to identify opportunities for investment and collaboration. Accordingly, we have a range of programs designed to focus on health and wellness, culture, education, heritage protection and economic development.
Frank McClernon
Instructional Services Supervisor, Calgary Catholic School District
cultural programing
Chevron supports activities and events that celebrate Indigenous culture and heritage including Jamborees, Pow Wows, and Treaty Day celebrations in our areas of operation.
educational partnerships
Chevron provides funding to the Inuvialuit Education Fund in the NWT and to Aurora College to help Northern students access programs and scholarships. We have also provided funding to the Sturgeon Lake Cree Nation to support music, science and math programs.
first nations, métis and inuit graduation ceremony - calgary catholic school district
Chevron has sponsored the Calgary Catholic School District's First Nations, Métis and Inuit(FNMI) graduation ceremony since 2014. The graduation ceremony allows all the First Nations, Métis and Inuit grade 12 graduating students, their families and the School District the opportunity to celebrate students' success.
indigenous leadership management program – banff centre
Chevron Canada has funded scholarships in Leadership at the world-renowned Banff Centre for more than 35 years. Current support is focused on the Indigenous Leadership Management Program, which provides leaders with the skills and support network necessary to achieve positive change in their communities.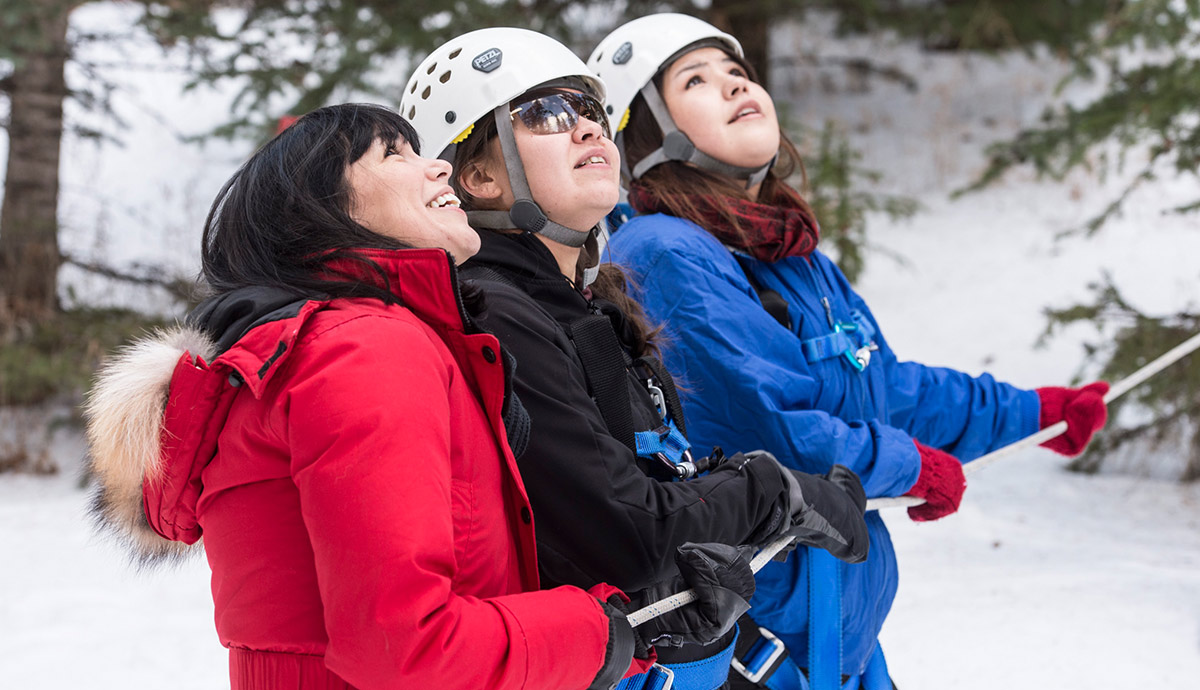 junior achievement aboriginal financial literacy program
Chevron Canada sponsors Junior Achievement of Southern Alberta's Aboriginal Financial Literacy Programs, including "Our Business World", "Economics for Success" and the "High School Business Program" which help Aboriginal youth improve their skills in money management, credit, savings, tax, and insurance.
northern rockies aboriginal women society (NRAWS)
Chevron Canada, through Kitimat LNG, is proud to support NRAWS' education and Aboriginal women empowerment programs, which help strengthen families and communities and preserve and promote Aboriginal culture, language and heritage.
Chevron's funding supports cultural and social activities for elders, early childhood education and celebrations for Aboriginal women. NRAWS serves the Fort Nelson, B.C. and surrounding communities.
women building futures
We are proud to support the work of Women Building Futures, which is helping to break down barriers for Aboriginal women and prepare them for a future career in trades. The organization provides comprehensive support for women through the trades' employment process, from readiness assessments through to on-the-job training.
kitimat LNG — working with first nations
Chevron and Woodside are committed to partnering with Indigenous communities where we operate.
Kitimat LNG has unique and precedent-setting benefit agreements with the Haisla Nation for the LNG Plant, and with all 16 First Nations along the proposed Pacific Trail Pipeline route through the First Nations Limited Partnership (FNLP). Each agreement includes training, employment, contracting and procurement, environmental stewardship and financial benefit commitments to our First Nation partners.
Kitimat LNG continues to work with additional First Nations groups to ensure that they also have an opportunity to participate and benefit from the project.
the 16 first nations limited partnership members include:
Haisla Nation
Kitselas First Nation
Lax Kw'alaams Band
Lheidleh T'enneh First Nation
Nee Tahi Buhn Indian Band
Saik'uz First Nation
Skin Tyee First Nation
Stellat'en First Nation
McLeod Lake Indian Band
Metlakatla First Nation
Nadleh Whut'en First Nation
Nak'azdli First Nation
Ts'il Kaz Koh First Nation
West Moberly First Nations
Wet'suwet'en First Nation
Witset First Nation