chevron open minds

learning beyond the classroom
Open Minds is an innovative, international award-winning learning program that provides a hands-on, out-of-classroom experience for students, focusing on observation, writing and critical-thinking skills. By stepping out of the classroom for a week of learning, students can slow down, develop critical thinking and observation skills and build confidence.
why journal?
Open Minds uses journaling in its programs as a tool to help students stimulate curiosity and make sense of the world around them. By asking them to sketch and write about what they see, feel and imagine, they are encouraged to go beyond the obvious. This allows for emotional connections that cement their learning.
This type of experience asks children to observe and reflect on their surroundings. This inspires them to make careful observations and thoughtful interpretations – setting the stage for inquiry.
Learn more about why journaling is a valuable learning tool
Download our journaling resources:
where to find us
Chevron supports three Open Minds sites in Alberta and one in Newfoundland and Labrador. To learn more, please visit:
explore our history
The Chevron Open Minds program has been inspiring students and teachers across Canada since 1993.
you might also be interested in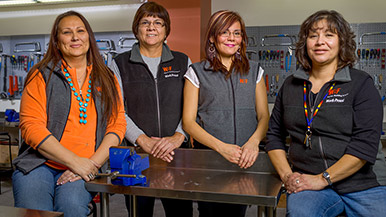 indigenous partnerships
see how we partner with Indigenous communities to deliver high-impact programs