The Chevron Learning Pathway is a recreational, environmental and educational walk located on the east end of Prince's Island Park in Calgary. The pathway winds around a constructed inner-city wetland designed to treat storm water before it flows back into the Bow River. It is a hidden gem in downtown Calgary that offers countless opportunities for discovery, learning and exploration. Immerse yourself in nature, just steps away from the city's core.
For upcoming events and programming happening along the pathway, please visit The City of Calgary Events Calendar.
Chevron Canada, City of Calgary Parks and Parks Foundation Calgary are founding partners of the Chevron Learning Pathway.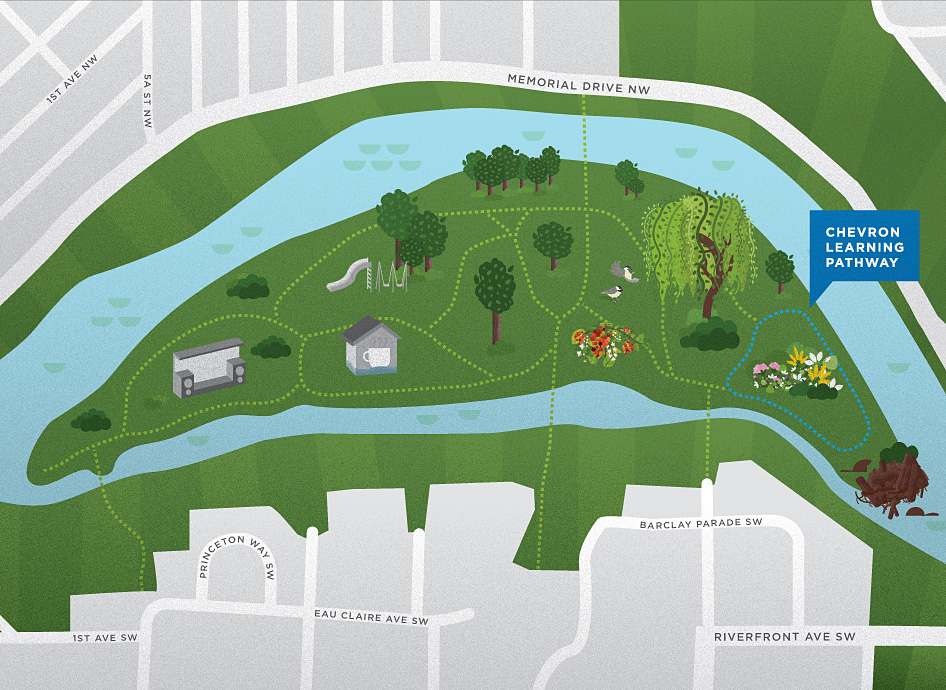 the history of calgary's urban wetland pathway
In March 1999, a renovation of Prince's Island Park was approved, including construction of a wetland and the restoration of plants native to the area.
The wetland area, called the Chevron Learning Pathway, opened on June 25, 2003 as a place for people of all ages to immerse themselves in Calgary's natural environment, while learning about the importance of protecting and caring for these spaces.
During the Calgary floods in June 2013, the entire east end of Prince's Island Park, including the pathway, was submerged. A thick layer of silt from the river was deposited on the island and much of the infrastructure was damaged or washed away.
Since the flood, new bridges have been built, debris and sediment removed, new interpretive signage has been installed, and the pathway has been restored. It officially reopened to the public in September 2017. Today, Calgarians and visitors alike can once again enjoy this unique outdoor destination in the heart of Calgary.
what you'll discover
The Chevron Learning Pathway is a real-life example of how natural processes can be used to safely remove pollutants in stormwater runoff and keep them from entering the Bow River. In the summer, the wetland removes 90 per cent of sediments and nitrogen and 75 per cent of phosphorous; in the winter, it acts as a buffer to road salt, making it less harmful to the natural environment.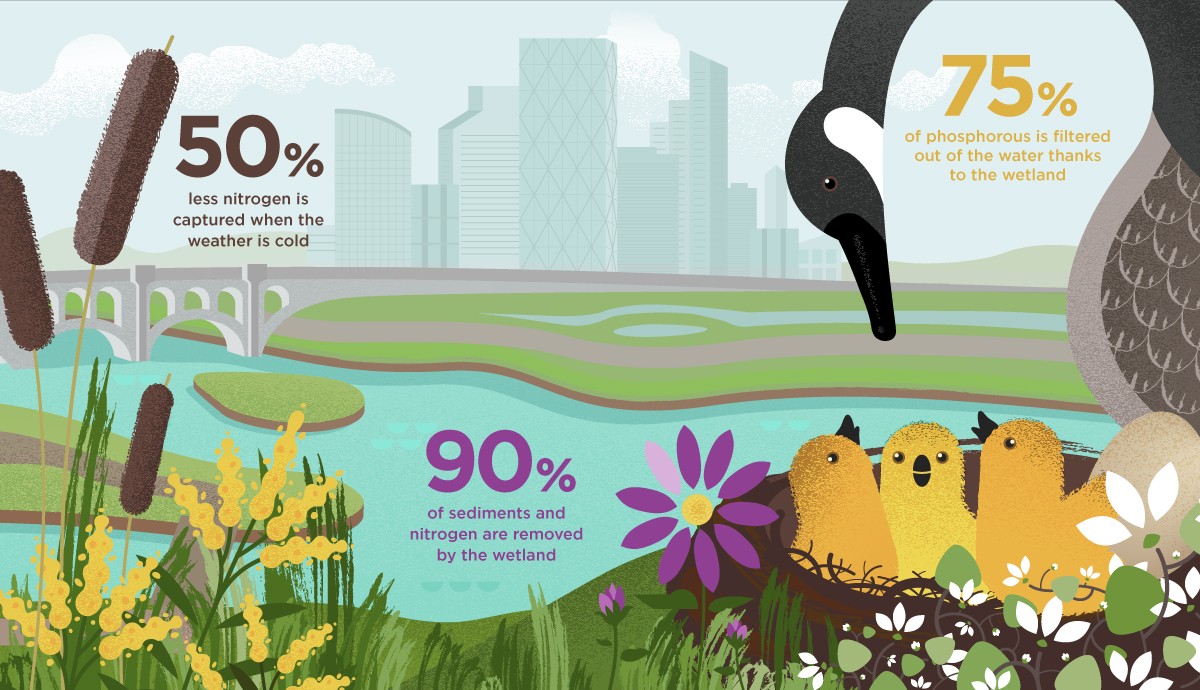 Not only is the pathway helping keep the Bow River clean, it is also supporting a healthy wildlife habitat, with different flora and fauna to discover year-round! Balsam popular, willow, chokecherry, cattail and Saskatoon shrubs are some of the plants you'll observe along the pathway. Some of the most frequently observed wildlife includes Canada geese, mallard ducks, bald eagles, ospreys, black-capped chickadees, muskrats and jackrabbits. Occasionally, you may even see a beaver taking up residence in the wetland.
flora & fauna
birds:
Bald Eagle
Osprey
Black-capped Chickadee
Magpie
Canada Goose
Mallard (duck)
American Coot
American Robin
Common Yellowthroat (Warbler)
Yellow Warbler
Swainson's Thrush
American Wigeon (duck)
Common Merganser
mammals:
Beaver
Muskrat
Jackrabbit
plants:
Balsam Poplar
Canada Goldenrod
Willow
Aster
Chokecherry
Silverberry
Wild Rose
Cattail
Saskatoon Shrub
Red-osier Dogwood
Canada Thistle (weed)
Black Henbane (weed)

activate your curiosity
Next time you visit the Chevron Learning Pathway, why not try journaling to observe and reflect on your surroundings? Journaling is also a great way to inspire children to make careful observations and thoughtful interpretations. Learn more about why journaling is a valuable learning tool.
We'd love to see what you discover along the Chevron Learning Pathway. Please share your pathway adventures with us online using the hashtag #ChevronLearningPathway.
thank you to our partners
The Chevron Learning Pathway was made possible through a partnership between founding members Chevron Canada, The City of Calgary and Parks Foundation Calgary, along with eight environmental partners including Alberta Conservation Association, Bow River Basin Council, Canadian Water Resources Association, Ducks Unlimited Canada, Nature Conservancy Canada, Calgary River Valleys, RiverWatch Rafting, and Trout Unlimited Canada.
you might also be interested in