economic development partnerships

working with communities to promote self-sufficiency, job growth and economic development

We recognize that contributing to the economy beyond our direct operations improves the quality of life for our communities.
Chevron Canada builds partnerships with organizations that provide vital social services and build local business capacity and capability. Our partners support and empower individuals to develop new job skills, increase the availability of locally provided goods and services and contribute to the community's economic growth and diversity. On an ongoing basis, Chevron provides a number of scholarship programs to support local skill development and local industry. We also partner with those that help local businesses meet industry and Chevron contracting standards. Examples of Chevron Canada partnerships include:
stella's circle
With Chevron's support, Stella's Circle has launched three social enterprises: CanDo, an employment service created for participants with complex multiple barriers to employment, CleanStart, a commercial cleaning service and Home To Stay, a service that helps homes and business make their spaces age-friendly. All programs provide real work experience and a sense of accomplishment for participants, as well as providing much-needed funding to the organization itself.
support for local business organizations
Chevron Canada is a proud member of numerous Chamber of Commerce organizations across Canada in communities where we operate. We believe that Chamber of Commerce organizations are one method for small business to network and advocate for a strong local business community. Chevron Canada also supports a number of Excellence in Business events at Chambers to help celebrate the innovation and entrepreneurship of small business owners.
"We believe that everyone has the capacity to work and can benefit from it. Work that is valued by the employee, employer and society helps people build skills and confidence while adding value to the community."
Lisa Browne
CEO, Stella's Circle
women building futures
We are proud to support the work of Women Building Futures, which is helping to break down barriers for Indigenous women and prepare them for a future career in trades. The organization provides comprehensive support for women through the trades' employment process, from readiness assessments through to on-the-job training.
you might also be interested in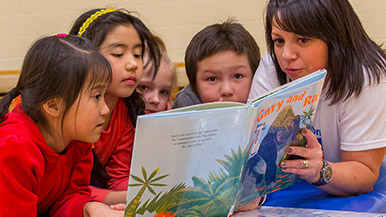 chevron in your community
learn what engagement and investment activities chevron is doing in your community