chevron in your community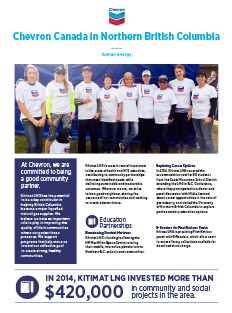 british columbia
Chevron works closely with local communities in Northern B.C. to provide health and education partnerships, including the Fort Nelson Family Development Society, Northern Rockies Aboriginal Women's Society, Kitimat Community Foundation and the TDCSS Terrace Youth Engagement Program.
Chevron supports STEM education outreach in the region through the HR MacMillan Space Centre, including their Star Lab portable planetarium.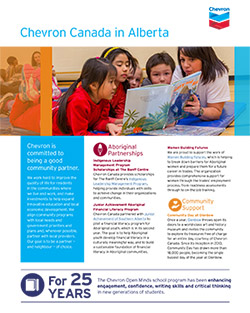 alberta
Partnerships and support within the Alberta region are an important part of Chevron's social investments in the province.
Learn more about some of our key programs such as the Chevron Open Minds School Program, Let's Talk Science, Propellus, Women Building Futures, Banff Centre Leadership Management Program scholarships and more.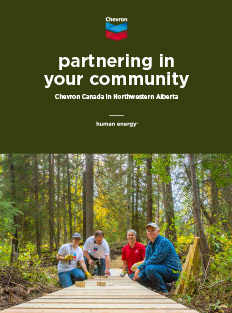 northwest alberta & fox creek
Chevron Canada's history in the Fox Creek area stretches back more than 50 years and comprises substantial investments in the local economy and community. Today, we are proud to support an array of programs and organizations that are delivering tangible benefits to area residents.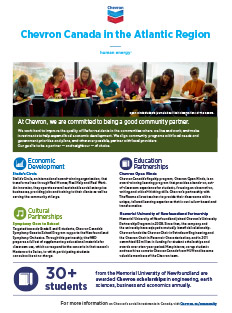 atlantic region
Chevron invests in economic, cultural and education partnerships in Atlantic Canada.
Our partnership with Memorial University provides scholarships to approximately 30 students each year; Chevron Open Minds @ The Rooms provides out of the classroom learning experiences for grade school children; and the Symphony Goes to School program works with the Newfoundland Symphony Orchestra to provide education materials for classroom use.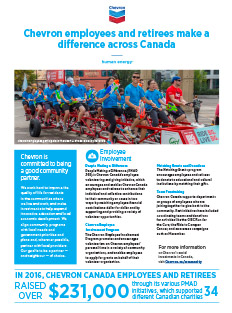 employee involvement
Chevron invests in its local communities and we want our employees to have the opportunity to do so as well.
Learn more about our support for employee volunteer efforts including People Making a Difference, Chevron Employee Involvement Program and other individual grant matching and team support Chevron provides to our employees.
you might also be interested in